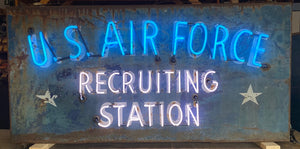 Midcentury classic, this double sided gem is from the Air Force's recruiting office in Manchester NH. Sporting original weathered paint and fully lit in blue and white neon. Approx 6 feet long, three feet high. 
Kindly inquire at our 
rental department
 for particulars, and please bear in mind these are copyrighted images.